Silicon Valley Comic Con
This past weekend (August 16-19), our outreach teams for Costume-Con were quite busy on both sides of the Atlantic! Co-Chair Christine has posted about WorldCon in Ireland, and here's co-chair Radar's report on the fun that was Silicon Valley Comic Con, held here in sunny San Jose, California…just minutes from the hotel that will serve as our amazing venue!
SVCC (https://www.svcomiccon.com/) was hosted at the McEnery Convention Center, which sports a hotel at each in and space in the middle to host vendors, photo ops, autograph sessions, artist tables and displays, breakout rooms for panels and discussions, and a fun fan table area, where we were located. Representatives from CC39, BABSCon (a local My Little Pony convention), BayCon (a general media convention), the 501st, Rebel Legion, Mandalorian Mercenaries, the Gotham City Police Department, a light saber fighting group, BB-8 and R2D2 building clubs, and the West Coast Avengers costuming group were among those set up to talk to attendees about the fun of their fandoms. Gotham City had a booking wall and jail cell, probably because Benny the Spaceman got into trouble for yelling SPACESHIP! One too many times… 🙂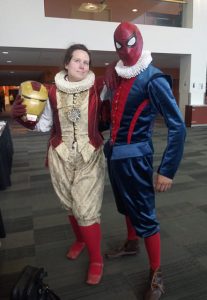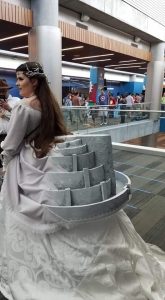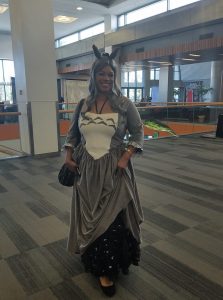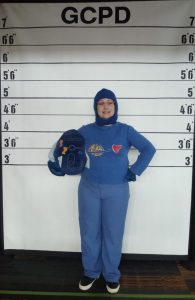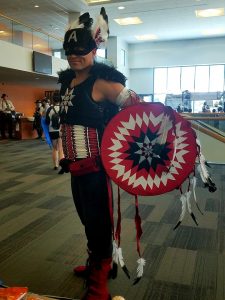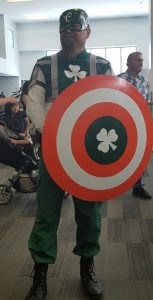 Many representatives of our convention aside from myself helped at our fan table. Phil and Kathe Gust (Future Fashion Folio), Dorothy O'Hare (Single Pattern, seen here as an Iron Nobleman), Lisa Harrigan (our treasurer), SFSFC board member Randy Smith, and attendees Promise and Diane were instrumental in chatting with all the amazing cosplayers that we saw on the show floor.
Costumer as Minas Tirith, variations on Captain America, and another as Totoro with a skirt of soot sprites!